PVC trim and moulding is a great alternative to woods high prices. You might not have considered PVC before but here are some benefits. When I began planning to install picture frame moulding in our bedroom we will quickly discover that we needed an alternative to wood because of the cost. I was familiar with PVC or plastic trim as we have used it in some small exterior projects at our previous home. As I began looking around the trim and moulding aisle I soon discovered that PVC trim would be the way to go, but I wasn't convinced as we normally used wood for interior moulding projects. After some research, and the desire to save money and still complete our project, I went with PVC and now have used it in two of our interior home trim projects. So far it has been great and thought I would share with you what we have discovered in case you are also looking for an alternative to woods skyrocketing prices.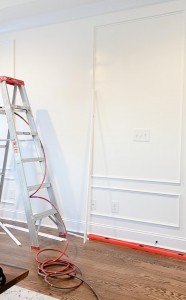 While I am here to share the benefits of PVC trim; I am not here to say that one should never use wood trim. We continue to use wood as well as some PVC. My goal is to shed light on PVC trim for interior use and how and where one could possibly incorporate it. Many don't know of PVC trim as an option and alternative to woods high prices. This is not a post against wood but more of an informative post regarding PVC trim as an option so you can make your best decision on what product to use and where to you use it.
This post explains the use of PVC for interiors; not exteriors.
What is PVC?
PVC is short for PVC Polyvinylchloride and it is a synthetic plastic polymer that doesn't separate easily. This product is widely used in exterior trim projects because of its durability and is a soft yet durable plastic and can be used in place of wood for many building and construction projects.
PVC has a honeycomb-like structure, is lightweight yet durable and is a moisture-resistant engineered plastic.
PVC doesn't look or feel like plastic once installed and painted. When I look or touch the trim we have done in our home you cannot tell that is a plastic material. It acts and wears like wood.
 
Benefits of PVC Trim
PVC products can last as long as 35 years and is a lot longer than what wood or another material can last. Even after decades of installing, PVC board and trim can look as good as new. PVC building products do not emit any harmful greenhouse gases during their lifespan. Paint on PVC trim will last three to five times longer than paints on wood or wood composites due to the absence of moisture in the substrate.
This material remains unaffected by moisture and does not rot or feed mold. Temperature changes can only alter the length of PVC trim slightly. PVC will not swell in thickness due to moisture. PVC trim is entirely fire-retardant and self-extinguishing. These boards are lightweight and slightly flexible, so easier for professionals to install.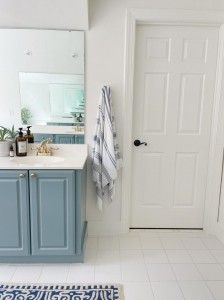 Where Can you Use PVC Trim?
You can use PVC trim anywhere you want to add trim both on your homes exterior and interior trim projects. A lot of builders are using PVC trim on homes exterior because of its lower cost and lesser required maintenance for the homeowner. I tend to prefer some of the plastic trim on the interior .In our dining room we are adding board and batten and have mixed the wood with the pvc trim that is inset into our board and batten.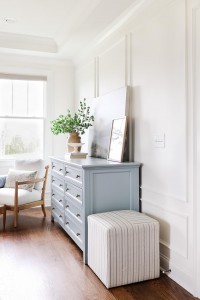 Using PVC Trim for Interiors
You can use PVC molding inside. Most of us think of PVC trim as being an exterior product, but it is being used indoors more than you think.
When weremodeled the bathrooms of our previous home, we used plastic for our baseboards instead of wood because of any possible moisture issues. PVC trim and pvc moulding is waterproof. Since the trim butts right up to the tub and of course goes around the back of the toilet and for a kids bathroom we knew there might be excess moisture from shower/tub spray or the occasional missing the mark of the toilet. If the baseboards get wet then we didn't have to worry about warping and pulling away from the wall and chipped paint.
PVC Baseboards is a good option in wet environments. You can also use PVC moulding for all your interior trim needs if you wanted to.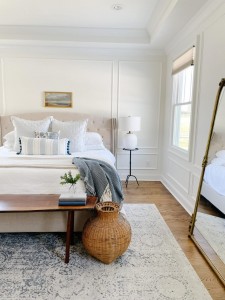 ---
Post time: Oct-13-2022